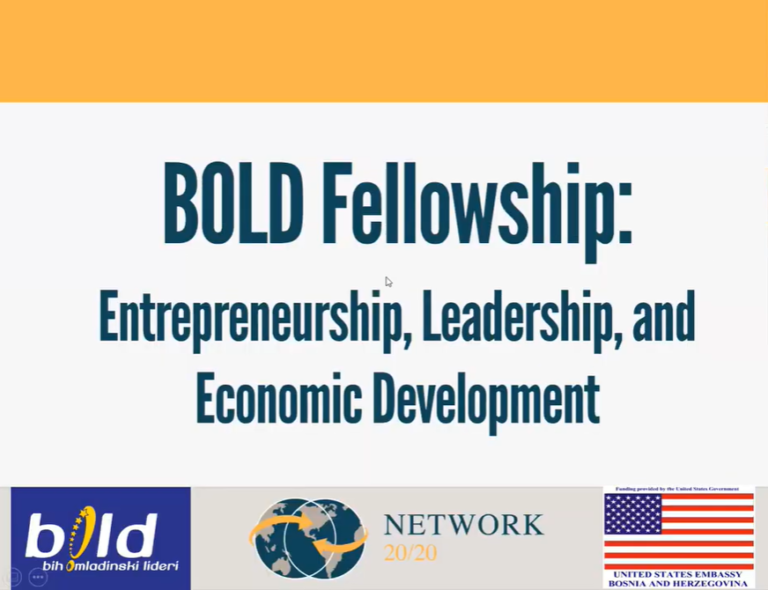 How Can I Apply?
Easy. Click here BIH BOLD FELLOWSHIP APPLICATION
to access the online application for Bosnia and Herzegovina.
Prospective candidates have to complete the application in order to be considered. Please note that the application can not be saved while in progress and we advise working separately on the two short essays (more information on the essay questions below).
Essay Questions
Each question is limited to 250 words (1000 characters)
Tell us how your personal experiences have influenced your professional and personal ambitions to become an entrepreneur.
Do you have a business idea (profit or non-profit) that you want to launch and how will it improve the economy. How do you expect this venture will affect your community? If you do not have a specific idea, please think of a challenge in your community that you feel passionate about. What skills would you need to develop in order to address and potentially resolve this challenge?
Learn more about the application process :
1. Eligibility
a) Are a current university student or recent graduate between the ages of 18-25.
b) Are a citizen of Bosnia and Herzegovina or Serbia.
c) Reside in Bosnia and Herzegovina or Serbia full-time.
d) Able to commit to two months of preparatory sessions with 2-3 hours of work per week and 1 month full-time in the U.S.
2.Application components
Apply and submit one letter of recommendation during the open application period.
If selected for the second phase of the application process, you will be notified when your online interview will take place
Participate in the online interview.
Comparative review of applications, interviews, and subsequent material.
If selected to the Fellowship, you will receive a notification and after agreeing to the terms of the Fellowship and commitment, you will receive a formal acceptance letter.
The multi-step application process will ensure Fellows are selected based on a comprehensive and balanced assessment.
3.What does the Fellowship cover?
International roundtrip airfare from BiH to the U.S.
On-the ground transportation in the United States as required to participate in program activities
U.S. Visa
International health insurance valid during the duration of the program in the U.S.
Lodging and meals
Activities, workshops, and event participation
Any food, activities, and purchases outside of what is provided above will be the responsibility of the Fellow.
4.What Will Be Required if I Am Selected?
Fellows are required to be able to attend the entire section of the U.S. program; inability to commit to the full length of the program will result in withdrawal of the offer.
Fellows are required to be able to participate in pre-trip and post-trip online meetings, activities, and short survey/questionnaire; inability to commit to the full length of the program will result in program ineligibility.
More information BOLD Bosnia and Herzegovina – Network 20/20 (network2020.org)
Preuzeto sa: mreza-mira.net